TOMCAT CHEX – A "GOD SEND" FOR JALINDA COVEY
THE THIRD IN A SERIES OF ARTICLES ON SUCCESSFUL STALLIONS WHOSE FIRST COLT CROPS HAVE NOT YET HIT THE ARENA
By Glory Ann Kurtz
June 11, 2009
<![if !vml]>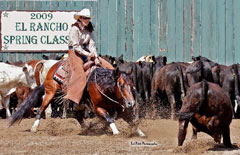 <![endif]>Jalinda Covey showing Tomcat Chex.
"He's a God send." That's how Jalinda Covey, Dixon, Calif., describes her stallion Tomcat Chex.
The 7-year-old stallion sired by High Brow Cat out of Miss Reed Chex by Bueno Chex is a uniquely bred horse. On the top side, he carries the bloodlines of High Brow Cat and Smart Little Lena, which are today's most popular cutting bloodlines – yet, on his bottom side, he is out of Miss Reed Chex, a daughter of Bueno Chex that carries the bloodlines of King, King Fritz, Robin Reed, Joe Reed II and Leo – the foundation bloodlines revered by the reined cow horse industry.
TOMCAT CHEX'S PEDIGREE:
<![if !vml]>
<![endif]>One of Tomcat Chex's greatest qualities is his wonderful disposition, as he is shown here with Jalinda's granddaughter.
It's a well-known fact that High Brow Cat is the cutting industry's leading sire of cutting horses; however, the importance of a well-bred dam cannot be stressed too much – some venture to say it could be 80 percent of the equation. Miss Reed Chex, nicknamed "Missy," is a 1978 dun mare , with an impeccable pedigree. Bred by Wayne DeGough, Clovis, Calif., she is still alive at age 31.

Howard Erenberg, Santa Ynez, Calif., the long-time president of the National Reined Cow Horse Association (NRCHA), owns her and says she is doing great; however, Tomcat Chex is her youngest living foal. Sired by Bueno Chex , a son of the legendary King Fritz, and out of Anns Miss Reed by Reeds Boy by Robin Reed, Missy finished ninth in the 1981 NRCHA Snaffle Bit Futurity with Rod Kelley in the saddle. That year, the Open Division had over 300 entries. Howevr, her lifetime earnings are unavailable because the early records of the NRCHA are lost.
Even though a broodmare can be bred the best, the way to determine her value is by the accomplishments of her offspring. Missy leads in both categories, as she is bred the best and has offspring earning over $393,000 She had 15 foals registered with the AQHA and close to half of them (seven) were money earners. Besides Tomcat Chex, she produced six other money-earning foals, including Smart Bunny Lena, sired by Smart Little Lena, and the winner of $86,320, including the 1998 NCHA Open Super Stakes Classic Challenge with Scott Weis aboard and Lil Miss Smarty Chex, the earner of $18,011. She is Equi-Stat's No. 1 All-Time Leading Reined Cow Horse Dam with 11 offspring earning $385,084, including Shiney Lil Miss, the Open Reserve Champion of the 2008 NRCHA Snaffle Bit Futurity with Jon Roeser riding.
THE PURCHASE OF TOMCAT CHEX :
Bred by Erenberg, Tomcat Chex was purchased by Jalinda and Rick Covey, Dixon, Calif., in November 2003. The yearling stallion had been consigned to the PCCHA Futurity Sale by Erenberg. "We bought him through the 2003 PCCHA Sale in Burbank the last year the Futurity was held there," reminisced Jalinda. "He was a long yearling and the only High Brow Cat in the sale."
<![if !vml]>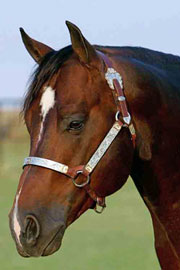 <![endif]>Jalinda chose to purchase Tomcat Chex not only because she loved the way he looked, but he was sired by an up-and-coming stallion - High Brow Cat - and was out of a Bueno Chex daughter.
Jalinda said that the sale took place just before all the High Brow Cats started winning and she just loved the way he looked – and especially loved the bottom side of his pedigree. "He had great bone, and everybody was looking at him," said Jalinda. "Jeff Oswood was representing him and at the sale and he was out of the stall more than he was in the stall. They had people so serious that they had him x-rayed."
However, even with the stallion receiving all that attention, Jalinda was able to buy him. "It was truly a God-send that we got this horse because we don't have the kind of money that a lot of people have to spend," said Jalinda.
As fate would have it, the owners of the stallion Playboy Perfecta were offering an incentive purse for his offspring at the PCCHA Futurity and Jalinda was showing one. "I had a horse that Russ Elrod competed on in the Open and I rode in the Non-Pro," said Jalinda. "We both kept advancing and we knew we had made the Finals, so we knew we had a shot at that money. "
Jalinda's parents, David and Janell Whitt, as well as her daughter, Tiffany, were at the show and it was the first time that her father had ever seen her show – so Jalinda felt this was the ultimate show for them to attend. It was also a memorable event because her daughter had just found out she was pregnant with Jalinda's first grandchild. "I told my Dad I would love to have this horse and his response was, 'Well, let's just pray about it. If it's God's will, it will happen you know.'
"The sale was held before the Finals but at that point, we knew that we had won the Incentive part of the Gelding purse, which was about $25,000. I said, 'OK, Dad, if we bid on this colt, the highest we can go is $25,000. We know we have that much money.'
"When the auction of Tomcat Chex started, it kept going really fast – everyone was bidding all over the place. We never even had a chance to bid. The bid was already up to $20,000 and then it stopped. They gave Phil Rapp the microphone and he was talking about how he was going to show a High Brow Cat that year at the NCHA Futurity. He was pumping up the High Brow Cats, saying, 'I really think they're going to be great horses.'
"While he was talking, my husband got the attention of the ring man who was standing down below us. He told him that he wanted in on the bid. As soon as he handed the microphone back to the auctioneer, he gave our bid to the auctioneer. There was about a 30-second lull - it wasn't very long - and the auctioneer hit the gavel on the podium and said 'sold.' Then he pointed right at us. I think he could have gotten more money because people would have jumped right back in there. But that's what I mean, it was totally "God's will."
TOMCAT CHEX LIVES UP TO HIS PEDIGREE:
<![if !vml]>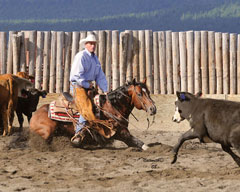 <![endif]>Gavin Jordan showing Tomcat Chex. Between Gavin and Jalinda, they have ridden the stallion to close to $76,600 in aged-event earnings.
Many people fall in love with a certain horse and feel that they "have to have that horse." But this purchase was also a good investment for Jalinda. He was trained and shown by her trainer Gavin Jordan in the Open, Jalinda showed him in the Non-Pro and Amateur. With very limited showing, mainly on the West Coast, Tomcat Chex went on to win close to $76,600 in aged-event earnings.
Ironically, during his first year of showing as a 3-year-old, he won the Championship of the 2005 PCCHA Amateur Futurity with Jalinda in the saddle. Jordan also rode the stallion to the semifinals of the Open Division. Earlier that year, Jordan had also ridden the stallion to the Open finals of the Northwest CHA Ranch Festival Futurity and they were Co-Reserve Champions of the Wine Country Open Futurity. They finished the year with $15,469 in earnings.
The following year, the pair rode the stallion in the 2006 PCCHA 4-Year-Old Stakes, with Jalinda splitting fourth in the $250,000 Amateur and Jordan placing fourth in the Open. From that show alone, they took home over $18,400.At the Wine Country Derby, Jalinda was Reserve Champion of the $250 Amateur and Jordan finished seventh in the Open. That year, the stallion collected an additional $28,863.
In 2007, Jalinda placed in the January San Diego Winter Classic Amateur. The young stallion was scheduled to stand at stud; however,Tomcat Chex had qualified for the Western Horseman Cup Open Derby held in January in Augusta, Ga., within the Augusta aged event. However, when he came up with a suspensory ligament, he not only had to be scratched from the finals, but was out of competition for the rest of the year and was not shown until the fall of 2008.
With 2008 being the stallion's final year in the aged events, Gavin won $6,205 at the Mebane Ranch Summer Cutting Classic/Challenge. He also picked up paychecks from the El Rancho Open Classic/Challenge, where Jalinda finished third in the Non-Pro. As he had done in prior years, Tom Cat Chex had a great PCCHA Fall Classic/Challenge. Jordan finished eighth in the Open Classic and Jalinda finishing third in the Non-Pro and 4th in the $200K Non-Pro. Tomcat Chex had earned $28,082 in three months.
KEEPING TOMCAT CHEX IN THE PUBLIC EYE:
Out of the aged events, during the first five months of 2009, Jalinda and Gavin went to several cutting circuits on the West Coast, winning circuit titles in the $3,000 Novice Horse, and $5,000 Novice Horse/Non-Pro rider classes for over $9,700 in additional earnings.
"Unfortunately Gavin has hauled hard the last two years – so we're not going to go to all of them this year," said Jalinda. "We're just going to pick and chose what's close to us. So far, we've been to three and we've won Circuit Championships at all of them."
<![if !vml]>
<![endif]>A mare owned by Lori Wigley, Walla Walla, Wash., and her black baby by Tomcat Chex.
With breeding mares now on the agenda, Tomcat Chex has earned his Certificate of Ability and NCHA earnings of $86,403. Even though the team were qualified for the Western Nationals, they decided to stay home and take care of business, as Tomcat Chex's book was starting to fill up.
THIS YEAR'S BREEDING SEASON:
With the California economy is hurting, Jalinda felt the number of breedings in 2009 would be down from the 48 mares they bred last year. However, with 46 mares bred so far, it now looks like Tomcat Chex's book may be up this year. Tomcat Chex stands at the Amazing Grace Ranch for a $2,000 stud fee for 2009, with a $650 chute fee. The $150 charge for the Breeder's Invitational is included in the stud fee unless it is a donated breeding.

PROMOTING TOMCAT CHEX:
Asked if they have an advertising budget, Jalinda said, "I do, especially as expensive as you well know it is to advertise. I try to stay under $5,000." Jalinda said they spent between $5,000 and $8,000 on advertising this year; however, they also spent $10,000 to nominate his foals to the various incentive programs, advertising in magazines, televisions commercials, hats, etc.
"As an incentive, we offer to breed daughters of Smart Little Lena free, charging only a chute fee and the Breeder's Invitational $150 charge. We also offer a discount to mares with NCHA earnings so we bred several mares with NCHA earnings over $25,000. We get a lot of return breedings as our customers tell us his babies are phenomenal. I know we have several mares with babies sired by some of the top sires in the country – and you can pick out the Tomcat Chex babies.
Jalinda advertised in the Chatter and Quarter Horse News but she didn't get in the Stallion Directory. She also has a web site – www.amazinggraceranch.com and advertises on www.allaboutcutting.com which links to her web site.
However, she has found a unique ad campaign. "Les Vogt has two Tomcat Chex babies from first foal crop and he has a program on RFD TV's Wide World of Horses," said Jalinda. "I have a commercial on Tomcat Chex on his program and I think it's more affordable to do that and I think more people see it. I get more phone calls from people who have seen the commercial on Les Vogt's program than I get from magazine ads."
WHO ARE THE CUSTOMERS?
<![if !vml]>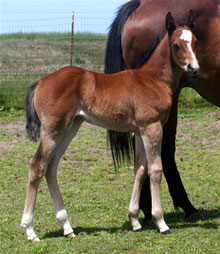 <![endif]>A Tomcat Chex filly that is out of Champgne Oak, a full sister to CassiesOak (LTE $200,000), owned by Nancy Dunn.
"Last year, I would say we got half reined cow horse breeders and half cutters," said Jalinda. "Dave Hammond loves our stud so he referred a lot of breeders in the NRCHA to breed to him. Les Vogt bred Bellarisa and she won $70,000. We bred several mares whose offspring have won over $100,000.
"We also bred Miss Hickory Pep owned by Clarence Williams. She won $6,500 but her offspring have won over $163,000 and she has produced an offspring that won the Breeder's Invitational. Plus they have bred a daughter of Stressin (offspring earnings of $145,000), who is a daughter of Crackin with $120,000 in limited age event money.

<![if !vml]>
<![endif]>A Tomcat Chex black colt out of Dualen Playgirl, an own daughter of Freckles Playboy.
"His oldest colts are yearlings. Les Vogt will promote both of his. As a matter of fact, he is going to do a clinic in Utah and shoot a blurb on those two colts. He's going to train them," said Jalinda. "Randy Paul has one and cutting horse trainer and judge Tim Castilaw has a mare bred to him.
The Coveys have 10 mares of their own that they breed to Tomcat Chex, including own daughters of Freckles Playboy, Lectric Playboy, Skeeto, Mr Dual Pep, Doc Gunsmoke, Lenas Telesis, Doc O'Lena, Doc's Oak, Powder River Playboy and Docs Tamarak.
Their daughter of Freckles Playboy is out of Seca Little Lena by Smart Little Lena mare. Jody Galyean showed a Dual Rey out of Seca Little Lena to the semifinals in the NCHA Futurity and his daughter made the Non-Pro and Limigted Non-Pro finals on her. The Mr Dual Pep mare, out of a Just Plain Colonel mare, was shown by Greg Ward to the finals of the NRCHA Snaffle Bit Futurity, and the Lenas Telesis mare is out of a Little Peppy mare. She has a Hes A Peptospoonful colt that is in training with Morgan Cromer. The Lectric Playboy mare is out of Dough Olena and her colt sold for $100,000 in last year's NRHA Futurity Sale. They also own a daughter of Dough Olena.
"We have a yearling colt and a weanling filly out of the mare that produced Guaranteeya Julestar who is currently leading the $3000 Novice and $5000 Novice Non-pro, owned by Jason and Dana Haefner.
Jalinda says that Tomcat Chex is sound to ride and she's won a lot of money on him. He's also very good natured and easy to handle. "We have been able to collect him and show the next day. My husband and I enjoy being around him every day. He brings us so much happiness. We are truly blessed to own him. When my grandkids come to visit, "TC" is the horse I saddle for them to ride."
As an added bonus, Jalinda says Tomcat Chex is also a color producer. "We bred him to two Paints sired by Mr Docs Gunsmoke, who was Reserve Champion of the 2001 PCCHA Futurity. We got an overo/bay with a white face, white socks and a spot on the belly. Also, TC's dam was a dun," said Jalinda
The Coveys had three colts and two fillies from Tomcat Chex's first colt crop. They sold two colts so far, with going one to Vaughan and another to Tracy Taylor. "I'm going to keep two to train and show," said Jalinda.
"It's very important that especially his first foal crop gets in the hands of people that will get them out there," said Jalinda. "Even if I have to give some away, so to speak, to people who will promote them, I'm willing to do that.
Jalinda has been a show secretary for 18 years; however, she says she is cutting back so she can have more time to ride and promote her Tomcat Chex offspring. Since Rick has been a union electrician for 24 years, it is Jalinda's main job to run the breeding operation. "I foaled out 17 mares this year and during the breeding season, we have approximately 60 head of horses to take care of," said Jalinda.
"I am living my dream. 'With Faith We Can Achieve All That We Believe' is what it says on the Tomcat Chex ball caps. I truly feel that TC is a God send and whatever our future holds, we will give all the Glory to God!"